So we went to a new church last Sunday and I loved it. I cannot wait to go back this Sunday. I am hoping we can get there earlier though and not have to sit in the balcony. I have been wanting to check this church out for awhile because our church is in Nashville and we have not been attending regularly because it is kind off an all day thing. I want Emma to have a solid church family and this church truly seems to have it all. Several young families, a pastor that Jon already knows from his past church and his sermon was awesome, our doctor and even a few of our friends attend somewhat regularly there. I am hoping to meet some wonderful new people there and hopefully start attending a Bible group too. Anyways, I just wanted to say that I am so looking forward to Sunday!

I cannot believe that it is going to be August next week...our summer is flying by and I want to make the most of it! We are hoping to squeeze in a weekend away to Holiday World with my family next month. I know that Emma would love the kiddie rides, splash park area and the indoor pool at the hotel plus more time with Gramma & Grampa!

They are actually coming down here next weekend to keep Emma while Jon takes me on our only second "real" date since we had Emma. He surprised me a few months ago with tickets to see Paula Deen live. We are going to go somewhere nice for dinner before...so I won't be hungry watching her cook! I love her and Rachael Ray and I cannot wait...Gramma & Grampa cannot wait for their Emma time either! I am hoping that we can all go to church together that Sunday morning before they had back to Indiana too. Apparently the pastor had made a promise to preach from the roof if they were within their budget or something like that (Emma was fussing at the time...) and they did so on August 5th he will be preaching from the roof. They are also having a family cook out so I hope we can meet & visit with some other parents that day.

I am soooo going to get a picture up of Emma in the Vintage*Chic oufit we won from Chelsea's blog last month. Emma wore it to church last Sunday and was completely adorable! She also had a bit of a diaper blow out after church so it needed to be laundered prior to picture time but I promise to get a picture up soon!

So here are the random Emmacakes photos for the week...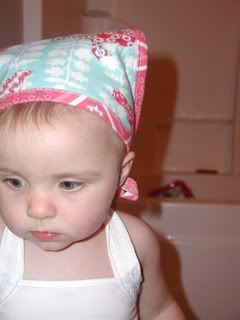 Who knew the potty could be so fun? My parents bought her this potty for her birthday since she is so fascinated by everything in the bathroom. She loves to go in there and just sit on it. We haven't really been potty training or anything yet but we let her sit on it before she gets in the bath tub each night...and she actually "tinkled" in it last night for the first time! I know, I know too much info...I am such a Mommy!