I have been sitting here trying to design Emma's birthday invitation on paint.net forever now. I just realized that I need my husband to do it. He is much better at it! I have an adorable picture of Emma holding her blanket up to her face and we are going to turn it b&w leaving just the blanket pink. We are going to write the info about her party in white letters on the black part. After we get them developed, I am going to stitch three pink buttons in two of the corners to give it an added element. I really need to get them in the mail on Tuesday so I really need to get this done! Right now is prime working time since Emma is down for a nap...but my husband is out in the garage brewing with a friend. He is a "home brew master" in his own words. Hehehe. Its an interesting hobby to have and it keeps him away from mine. Sort of. We are working on a scrapbook together with his mom for his sister's college graduation. I really need to get to work on Emma's again...its just hard to find the time with an impatient toddler, a seemingly constant messy house and a full time job. I love my life though and would not trade it for the world!

Here is a picture he took of Emma in his new cooler that he is going to convert into a "mash ton" and please don't ask me what that means because I don't really know!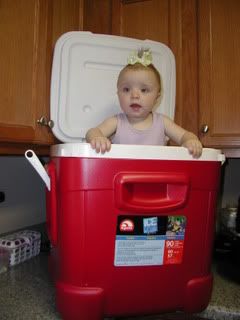 My understanding of it is that its what he pours oats and hot water into that eventually become beer. He likes to go on and on and on about the brewing process but he loses me pretty quick so I just nod and say uh-uh. :) I hope that doesn't make me a bad wife!

Okay, enough rambling on this blog. I have to fold a ton of laundry, put it away, clean the bathrooms, work on the invitations for Peytonn's baby shower before my Mom kills me, run to Hobby Lobby to look for the cake pan, hopefully find the said cake pan and bake a trial cake tonight so we can have it as desert tomorrow when Jon's family comes over to scrap. I'm hoping I will be able to accomplish a little on Emma's book too.