It is now 3:05 AM and I am wide awake. Emma is asleep in her crib and Jon is asleep in our room. I fell asleep with Emma in our bed around 8:00 PM and I woke up at 2:30 AM. Now I can't fall back to sleep! I know I will be regretting this online adventure around three o' clock tomorrow when I am ready for a nap...I guess I could always take a nap with Emma though. :) Nothing is sweeter than cuddling with my sleepy Cakes. I love the moment when I pick her up all sleepy from either her carseat or our bed to move her to her crib. I tell you there is nothing better in life. I just found this picture from Easter Sunday at Jon's grandparents' house.




I have to admit that I was a bad Mommy last night. I laid Emma down on the couch beside me to take her bottle. I left one hand on her leg and turned to look at Jon in the kitchen and boom. She fell off the couch and banged her little head on the coffee table. I was so upset and she was screaming. I was surprised when it only took about five minutes to calm her down...I was upset about it way longer than she was! I felt horrible about thirty minutes later when I felt a goose egg on her noggin and we kept her up past her bedtime just in case. I am so paranoid about her falling off the bed, falling backwards, etc with Jon and the times that she has gotten hurt have been with me! How do you keep your kids from getting hurt?

I had an idea of an "E" bow holder for Emma's hair bows. I saw similar ones on eBay but could not find the "perfect" one so I took my idea and created it myself. I am quite pleased with how it turned out! I bought a simple wooden "E" and some paint, scrapbook paper and Mod Podge at Hobby Lobby while I was unemployed. I finally found time to finish it the other night. What do you think?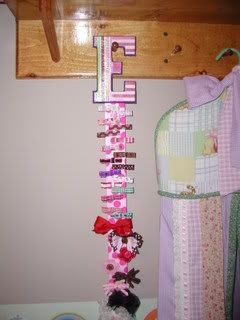 One last picture...I am finally starting to get sleepy again. We have taken a picture of Emma Cakes with a sign that says "I'm ___ months old today" on the 15th of each month. It has definitely gotten harder to accomplish each month but I am so happy that we kept up with it. Here is this month's picture...it only took about ten pictures to get a smile!




Jon has been working on two collages of these pictures, the good one and the outtakes. He did it for me one night when I was kind of in a funk about stuff and he wanted me to smile. My big idea is to get them printed after we take her birthday one and display them both at her first birthday party!