Emma has one pair of jeans that I thought "fit" for this fall. They were from the Children's Place, size 12 months and pink lined. I put them on Emma on Tuesday and they were fugly! They were so ill fitting and definitely not a size 12 months! We bought them around last Christmas at an outlet store and she is now old enough to wear them and yikes! It was too horrid to even take a picture...the legs were the right length but the crotch was at her knees. I don't even know how to describe the sizing...a 2T waist with 12 month legs?!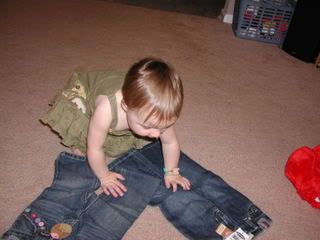 It has been a little chilly in the mornings lately so I decided I would splurge and get her a new pair of jeans. Old Navy had them marked down to $9.90 when I was there today so I picked up two pairs. The weird sizing "cloud" must have followed me to Old Navy. Both pairs were marked 18-24 months and were within an inch or so of the same length. One pair fits perfect (a little big) and the other pair won't even button up with Emma in them! So it looks like they will be going back tomorrow. The other pair was soooo cute on her!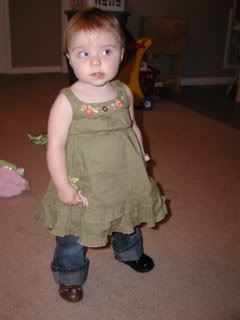 She went to her closet and pulled out a black boot and a brown shoe. Silly girl...she wanted Mommy to put them on her. She amazingly had both a left and a right so I obliged her request.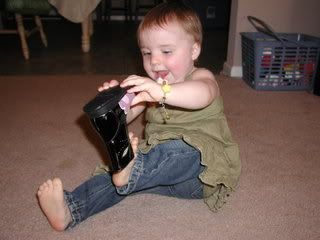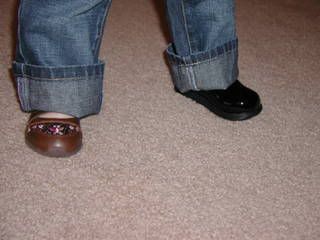 Its funny...I just told Jon today that it looks like we need to retire the hippo dress since it was getting short on her. I kind of like how it looks with her jeans though. I might need to pop a seam around the middle and let her wear it like this. Hmmmm...I love my little fashionista!