The long weekend at the lake was amazing fun and so relaxing. I admit that I have been soooo tired ever since we got home though. The six hour drive home, working 40 hours a week and cleaning up around the house just isn't nearly much fun. My family was awesome as usual which makes me miss them even more!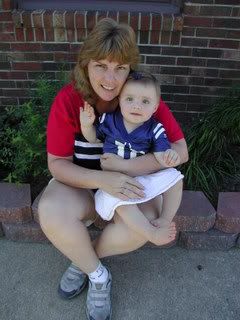 Lets see...the homemade icecream rocked, Emma loved the splashes coming up off the boat, we lost and found Babee and Boo Bunny a few times, we took several golf cart rides around the lake, I discovered Guardian Service Ware aluminum pans, my Dad caught a trifling mole, Gramma & Grampa bought Emma two new DVDs and let us borrow their mini DVD player for the car ride. Thank you, thank you, thank you...it made for an easier drive home.




I finally got to hug on my adorable nephew some more. He is getting so big...yet he still has that baby scent that Emma has outgrown. We met them over at Portrait Innovations in Carmel and had the kiddos portraits made together. It was pretty cute! I'll have to get Courtney to send it to me so I can post it here.




Just a little here & there. :) Courtney has turned me on to Diaper*Swappers and I really want to check the site out some more because it looks awesome. I just got a new sling from Lucky Baby and I can't wait to use it with Emma. She has become my little shadow the last few days and it makes it hard to get anything done. Oh yeah, we are getting an almost new RED Maclaren stroller for cheap tomorrow...you gotta love Craigslist! We are trying to transistion Emma to a "big girl cup" for her morning bottle. It is a Playskool Flip Top Straw Cup and she seems to like it a lot...except in place of her morning bottle. She wants her Playtex 4 oz nurser! She has been so finicky with sippy cups anyways...she will only drink well from her NUK Trainer sippy with the latex spout. Silly girl! Elmo LIVE is coming to Nashville in November and I hop that maybe someone gets Emma tickets. She *loves* Elmo and I can only imagine what she would think to see him for real! One last little thing...Grey's Anatomy is back in just three weeks from tonight!




The Colts played tonight...woowoo! Emma started clapping and running around the living room when the team ran onto the field. It was adorable especially since she was wearing her jersey! We are working on getting her to say "Go Colts!" and she almost has it down...she was about ready to pass out for the night by the time the game got started. It didn't help that it was bedtime and she is sick and on Benadryl. She is so stuffy and sneezy. My poor little Colts fan. Well, it is 34-10 right now and they better whoop it up and keep it up because I am about to head to bed. I really want to watch some BB8 After Dark on Showtime but I can barely stay awake now and its only 10:36 PM!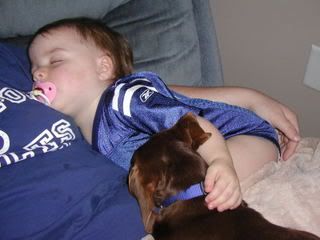 I think that about covers everything and I'll leave you with Emma & Retto snuggled up on me watching the game...minus most of me this time. :o) Even Retto is wearing Colts blue!