It is a day to remember the soldiers who have given their service to our country. If you know a soldier please thank them for me. :) My brother was in Iraq for ten months, three years ago and his time in the National Guard ended in April. It is getting scary over there and the soldiers deserve everything of us regardless of anyone's feelings on the war. Okay, I am stepping off of my soap box now. I knew I should not have turned on the news. I am so excited to put Emma in her adorable red, white & blue apron dress from Old Navy this weekend!

I stopped by a local boutique here in Murfreesboro, Whipper Snappers, to see if they carried the Pediped shoes that I was hoping to get Emma for her birthday. They did so I bought them and looked around at their hairbows hoping to find one to match her dress. The bow lady had been on vacation so they didn't have any red, white and blue so I bought a red & blue one. I knew better than to buy without a price tag there...it was $9 and they offer no refunds. Yikes! The blue doesn't even match her dress. I guess I'll consider it a lesson learned. I did find a lady on Etsy that makes custom korker hair bow sets for $5 plus shipping. I just ordered two sets...one set in Colts blue & white and the other in red, white & blue.

My hubby also surprised me by coming home with a Gymboree bag last night. He had met his Mom & sister in Green Hills for lunch and they had gone to the mall. He had seen the Island Getaway collection that Lovelyn had given me the link to and had to get it for his girl. :) He also had picked up about five hair bows since they were marked down to $1.50 each ... that really put my $9 hair bow to shame. I went ahead and bid on the made-to-match hippo bracelet on eBay today. :) Thanks Lovelyn!

We dressed her in it today to try and get a cute picture of Emma for her birthday invitations. She was not too interested in picture time and soon turned foul on us so it is now nap time in our house. She is so adorable in that dress and check out the hippo!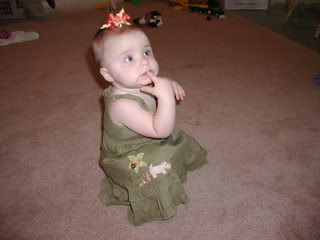 My husband had also thought of me on his shopping trip (with just a wee bit of prodding...) and brought me home samples of the CLEAN perfumes. I spritzed on a little of the Warm Cotton one last night at dinner and I still smell like I just stepped out of the shower and into an outfit fresh from the dryer. I know thats not what everyone wants in a perfume but I happen to *love* the light clean scent!

I was reading an article in a magazine the other day about shopaholics and I am beginning to think that is me. I have an urge to splurge when it comes to clothes, shoes, accessories, etc for my baby girl. I have decided that it needs to stop and it stops today. Well...maybe tomorrow since I have already done more than a little damage today. I noticed this morning that I was outbid on a Princess Picasso custom set that I fell in love with on eBay the other night. I told myself then that I would go to $40 even though I really should not have. Well, today I went a little crazy and upped my bid so I am now the high bidder again. My husband is going to kill me if I win...I guess it might be a good thing if I get outbid. :( It is just so easy to shop online. I am handing over my card to my husband. I will only be shopping in actual stores now and only for things like groceries and other necessities. We had to put new tires on my car this week and we realized we are busting at the seams of our budget! Besides...I know Emma doesn't *need* most of the stuff that I've bought...I just get drawn in by the cuteness factor. As does my husband, apparently, after his recent Gymboree splurge.