I was trying to spruce up my little blog last night while Emma was asleep. I am still at a loss on how to center my header though. I am only so-so with html and I'm clueless on this. I'm loving the green and Emma's picture being on my header!

We also finished Emma's birthday invitations last night. I love them!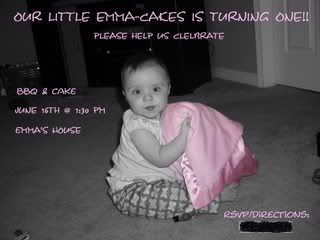 I am going to stitch three pink buttons onto the bottom lefthand corner before we mail them. So what do you think? I cannot believe that my baby girl is going to be ONE in just three weeks! I still vividly remember the day she was born...how tiny & perfect she seemed even though she was covered in "cream cheese," bluish and wrinkly. I admit that the first few weeks were rough, recovering from my c-section, not having my own mom around and Emma having trouble gaining weight (she was in newborn diapers until she was 9 weeks old!) but I would not trade it for the world. I never realized how much I could love someone until she came along. Okay, I need to stop before I get all emotional!

I have decided that I want a sewing machine for my birthday. I had been kicking around the idea back when we were getting married and decided against it. Well, now that a pair of my dress slacks split at the seam last week and I've fell in love with pillowcase dresses on Emma, its a go again. I think it would be a handy thing to have around the house (especially as Emma gets older to fix any booboo's her blankey and bedtime bunny might acquire) and I might even get a little creative. I am between two right now. The Brother XL2610 which is $110 and a Singer one that is $90. My Mom had a Singer for almost 30 years and just replaced it at Christmas with a Brother that she loves. Any one have any input for me? I mostly just want a nice, solid beginner one that I can do the basics and maybe a little more with. My parents are getting Emma a wagon for her birthday and I'd love to make a cute seat cushion for it. How hard could that be...for someone who hasn't sewn since jr high?!

Hopefully it will turn out better than our trial birthday cake yesterday! My husband took the cake out of the oven and cut the top off for me...while it was still hot so it all mushed together. I also had forgotten a cardinal rule of baking myself...line the pan with shortening and flour not vegetable oil spray. The middle of the flower came out in a big mushy clump and the rest was stuck to the pan. Its a good thing that we did a trial run! Although, I was hoping to use the trial run for decorating...I guess we'll have to try again later this week. Emma enjoyed the cake though!

I probably won't be online much the next few weeks. The weather has been too incredible to miss out on, we need to finish getting the house ready for Emma's party, and then we will be out of town the weekend before her birthday. I'll leave you with a few cute pictures from this weekend...


That's mommy's girl...all sweet & festive for the camera.


Trying to get away from mommy.


Don't you know that Backyardigan band-aids make any little booboo feel better?!


Daddy was filling up the pool and somebody wanted to get in. Next time she'll have her cute swimsuit on!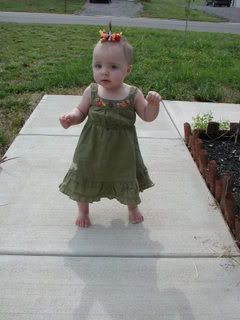 Who needs shoes? Look at me...I'm walking outside!