How can you get upset at that face? Emma got into my scrapbook supplies while I was addressing her birthday invitations and "ate" my water color pencils! She came toddling over to me at the kitchen table and I swear I heard "uh oh mama" and I couldn't help but smile. I, of course, could not resist snapping a few pictures before cleaning off her adorable little face. I am so happy that she didn't get red, blue or green on her new pillowcase dress!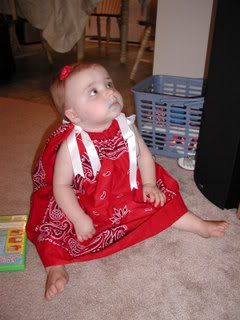 Her birthday outfit came in the mail on Thursday. It is even better than I imagined and it came so quick! We tried it on Emma after her bath and it fits perfect and is so adorable on her. She even left the headband on! Patty at ModKid did an awesome job. She even included a little dolly wearing a dress made of the same material. Emma loves it and has been toddling around the house with it ever since. We are going to make it a birthday tradition of ordering a special outfit for her from ModKid. I love Patty's work! Here is a quick snapshot I took of her the other night when we tried it on. Please excuse the bad lighting and blur....she was a girl on the move and the light from the aquarium didn't help!




I love her so much....I can't believe my baby girl is going to be one in just two weeks! We have been getting in some extra Mommy & Emma time this week as Jon has had to work late every night....you gotta love the end of the month! So we have been falling asleep together on our bed watching General Hospital. I think she must remember it from the womb. Every time the intro comes on, she stops whatever she is doing and stares towards the TV. I watched it almost every day while I was pregnant with Retto on my lap. He is the same way with the intro. Its kind of hilarious! Jon actually tells Retto to run to the saxophone of his dreams. I know we are goofy! Anyways, I've only started watching it again in the last few weeks. It is getting good....Jason, Elizabeth, Lucky. Good stuff! Anyways, I love falling asleep with her snuggled up against me and her silky blanket draped over us and Emma giving mommy kisses. There is absolutely nothing sweeter in life.




I might post again later about my birthday present....I got the Brother 2600i sewing machine last night! I bought some fabric and a few patterns too. I can't wait to start! My first project is a travel changing pad for my adorable nephew Peytonn for their shower in July. I can't wait to see him again next weekend! I stole this picture of him from my sister-in-law's MySpace page. He's getting so big and is finally wearing newborn clothes! I miss Emma being so small....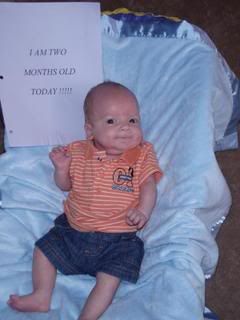 So I'll leave you with a few cute, random pictures from this week.