Emma had her one year check-up with Dr. C last Tuesday. She is a healthy 21 lbs 3 oz and is now 30" long. She is in the 60th percentile for weight and the 75th percentile for height. He was very impressed with how solid she was walking and her vocabulary of about six words. Her reflux has completely vanished since she started walking. Daddy was the one who had to take her to this appointment since Mommy had to work and he despises needles. Poor Emma had to get three shots and I think it hurt Daddy more than it hurt her!

She has also been battling allergies this past week. Her little eyes have been so red and watery and she is so sneezy...she actually loves to sneeze though. She thinks it is funny. We gave her the very first dose of Benedryl that she's ever had the other day. I had heard that it makes some kids hyperactive so I didn't really know what to expect. It was kind of funny to watch her about 30 minutes after I gave it to her. She was already fighting sleep and was kind of wound up and giggling. We were laying together on our bed and she would go to stand up and would fall backwards laughing...it was as if Emma was intoxicated! I was so close to grabbing our camcorder but I was thinking that is what a bad mommy would do...I should not be entertained by my poor medicated child. She finally gave in to sleep and slept for four hours (it was nap time) but the next dose before bedtime had the absolute opposite effect on her.




She was wired! She was chasing our dachshund Retto around the house. He really didn't know what he was in for! She was taking his toys and putting them in her shopping cart. She was catching him and hugging on him then he would get away and jump on the couch. She would chase him back and forth on the couch until he would give up and dive of the end of the couch. She thought that was hysterical so she would start chasing him on the floor to get him to jump back up on the couch. I seriously thought that she was never going to wind down. We laid down together on our bed again but it was pretty much a futile effort. She finally gave in to sleep around 11:00 PM.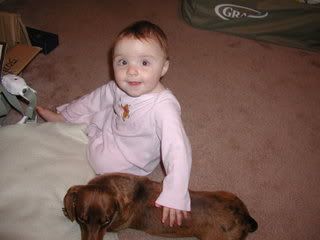 I hope everyone enjoyed a great 4th of July holiday. We went up to Jon's grandparents' house and had a BBQ lunch with his grandparents and parents. Our neighborhood has about five families that try to outdo each other with fireworks. Emma & I sat out on our porch steps and watched them for a while. She was so cute throwing her hands up in the air like she could touch all the pretty lights. I should have grabbed my camera but I didn't think about it in time. She has also started teething again this weekend. I hope that third tooth cuts soon! I do not like seeing my happy girl so miserable.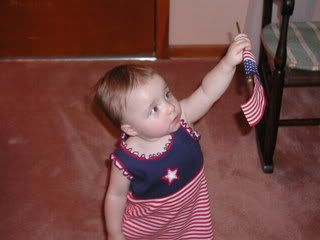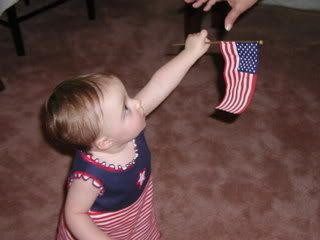 Lastly, I just want to thank Chelsea again for the contest that we won from her blog. She is one of the boutique designers on eBay that Lovelyn has introduced me to. :o) She offered a drawing on her blog, if you purchased something from her in June and subscribed to her newsletter and our name was drawn. Emma won a cute girly skirt and embellished shirt! So if anyone if looking for some unique, adorable baby girl clothing...please look no further than the links on my blog. These girls are amazing!