Ashlea and I had plans to take Emma, Peyton & Noah to the local park's splash pad area this evening when I got off of work. She ended up having to cancel. So Jon decided to meet me over there and we'd take her ourselves even though I didn't have any type of swim wear for us -- I was planning on Emma going into splash around with Noah! Anyways, I thought I knew where it was but I turned left one light too early and I didn't realize that they shut the water off at 6:00 PM. We had Emma in her swimsuit , rubbed down with sunscreen and as we are approaching the splash pad the water shuts off. Emma toddled around splashing in the water on the ground and looking at us saying "dink, dink?" like why did it stop?! We have discovered that she doesn't think of just her sippy cup of water as a "dink" everything to do with water is a "dink." She always says "dink, dink" at bathtime but I thought it was because of the cup we use to pour water over her hair. Nope...apparently everything that is water is a "dink, dink" in Emma's world.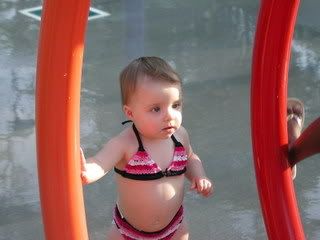 So Daddy picked her up after about ten minutes and headed back to the car...she started screaming and then came the crocodile tears. Talk about feeling like the worst mommy in the world. I had a great idea of fun but the timing backfired on me! She cried most of the way to Toot's where we had dinner. They serve a hotdog basket and icecream to kids and that seemed to put her in better spirits. She was a hit with the waitresses too! Daddy even asked her if Toot's made up for the water park and she was shaking her head no and smiling at me like she really knew what he was asking her! So tomorrow we will be filling her baby pool up and we might even make another trip to the park.




Oh yeah, Emma has a new word in her vocabulary...its Toot's!