We are back from a whirlwind trip back home to see my family in Indiana. Time goes too fast when we are up there. My Mom and I hosted a "meet the baby" shower for my nephew, Peytonn. He was born eight weeks early so we just left the shower date the same so he would have his immunity build up. He is finally starting to look like a chubby little baby instead of a newborn! I could just cuddle him all day. Emma doesn't seem to know what to think of him though. We did manage to snap a few good pictures of my Mom & Dad with a wiggly Emma and sleepy Peytonn!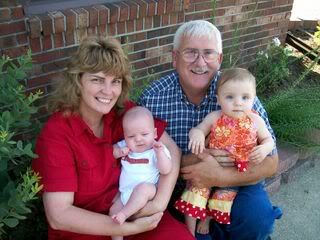 My parents are awesome grandparents and I wish Emma could be around them more often. Mom had cleaned up this old horse toy that I had when I was a baby. Emma loved it and she is such a little ham!




After the shower was over, we headed in to the fair. We had a Lemon Shake-Up and an Elephant Ear...yummo! I hadn't been to the fair in years. I do miss being around the barns and animals...the good ole 4-H years! I heard that Kelsey, Evan and Nate did really good this year. Emma was actually a part of Nate's photography entry and we got to see it. We even wandered down the midway and took Emma on a few of the kiddie rides. The carosel, the Dumbo ride and the train. Emma even plucked a duck from a pond to win a blue bouncey ball.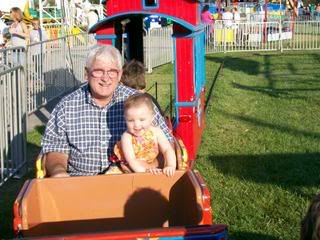 The sad part of our fair story is that her Princess Picasso outfit got ruined. Some grease fell from the machinery of the carosel and landed on Gramma and Emma. It is in splatters on her shirt and several places on the pants. We tried OxyClean and it didn't come out at all. We tried Dawn and it is washing right now. I am keeping my fingers crossed that it comes clean. I love that outfit and she has only worn it a handful of times! So any advice of cleaning black grease out of red and orange material? Amie, in a pinch, would you happen to have any of that material left?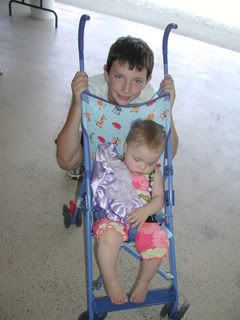 I'll leave you with a cute picture of Nate and my sleeping punkinhead and wishes that the outfit comes clean tonight!