Big Brother is about the only show that I am watching these days. It is getting soooo good and even Jon gets into it which is nice to be a couch potato with him & Emma a couple nights week. I know there are several other BB8 addicts out here in blog world so who do you think will be evicted this week? I woke up about an hour ago and turned on BB8 After Dark and it is sounding like Amber and Jameka will be nominated. I was hoping for Jen and Zach. I love the alliance of Eric & Jessica...they are so cute! By the way, we just got Showtime two nights ago and I am loving the After Dark! DirecTV called and offered Showtime, free for three months...perfect timing with the whole Big Brother After Dark thing airing every night 11:00-2:00 AM. I can see how this could become addicting. Thank goodness for Tivo...we can get to the good stuff. :)

Jamaica. We honeymooned at Sandals White House in Jamaica just two summers ago. It was brand new and I wasn't completely impressed with it but it was a good time. Save for our honeymoon being bookended by hurricanes Dennis and Emily. There were hardly any excursions available and the snorkeling was canceled every day that we tried due to the water being so rough and murky. The last two days were spent pretty much holed up in our room because the wind and rain were incredible and the resort was in "hurricane" mode without actually saying they were in hurricane mode...they didn't want to envoke the Hurricane Guarantee for a FREE return trip!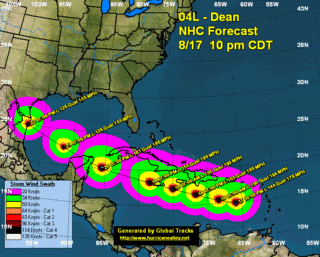 Anyways...I just saw the headline about Jamaica expecting a direct hit from hurricane Dean in the next few hours and it brought back my own memories. We were blessed enough to have hurricane Emily turn within 100 miles of Jamaica sparing us the experience of a direct hit and a lot of unknown complications of getting back home. Here's hoping that hurricane Dean will turn and spare the island again. It really was a neat place and I'd love to go back again someday but we would probably stay a lot closer to Negril where there is a lot more to do and without a scary hour long shuttle ride with a crazy Jamaican driver on little windy roads!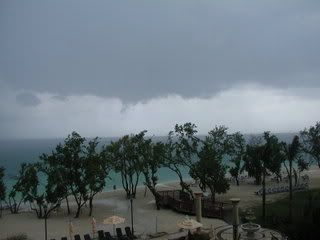 Sending up prayers for the people in the path of hurricane Dean. :)