While I was shopping for new checks the other night, I think I stumbled across the perfect costume idea for Emma Cakes. Pebbles from the Flintstones!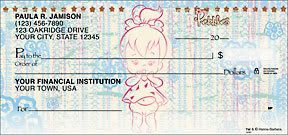 She shows her belly like this whenever she has on a dress and when we pull her hair up it reminds everyone of Pebbles. So now I just need to come up with an idea of how to make a cute bone shaped hair clippie. I googled "toddler Pebbles costume" and the only one I found was kind of ugly so I think I will try to make it myself. I just hope it isn't too chilly for her at Halloween! :) My other idea is dressing Retto up as Dino....we'll have to see on how well he cooperates on that one though.

So it looks like the octopus costume idea is out at least for now.