That is right...plural...Emma has two new teeth! I guess that explains the extreme moodiness last week. We knew she was cutting her second top tooth and it finally broke through the gum last night. Thank goodness for teething tablets and her teething necklace. We have seriously had to give her so much less Motrin this time around with the teething. Jon was looking at her tonight and noticed she has a bottom tooth on the side! Emma is offically a five chomper gal! :)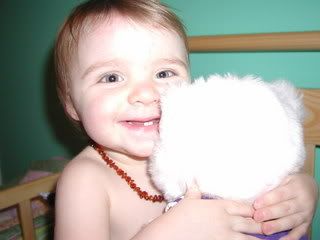 Please excuse the horrible coloring on this photo. I was way too close with the flash...Emma is definitely not that pale! She was hugging on Lizzie so I took advantage of the moment...we realized the tooth later! Can you see it?!

She also has a new big girl bed that is courtesy of Gamma & Papa (Emma's new names for Gramma & Grampa) this weekend. She has actually fallen asleep in it once and has slept all the way through the night in it three times (after being put there already asleep.) She doesn't even hop out of bed in the morning, she waits on us to come get her. She loves being able to climb up on her bed with her Boo Bunny, Lizzie and her books in the evening when we play in her room though. I have caught her in there "reading" several times.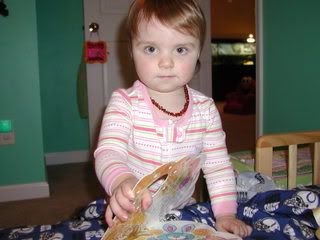 Don't you just love the Colts bedding? We are going to keep using her bedding that Granny made because it goes with her room...pink, green and lavender but the Colts will stay on during football season! I can't believe how well she is doing with the big girl bed. She would scream every single time we tried to put her down in the crib...like please don't put me in that cage! She is now mama's little big girl and that is a little bittersweet. :)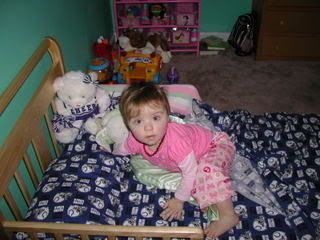 Can you tell she just woke up? :)