Our special hair clippies arrived two days ago! I joined the GymboFriends forums in September and there are so many wonderful SAHM's over there that make hairbows for so much less than the boutiques around here and are so much better quality. I love the handstitched felt clippies on Emma and they stay in so much better but they are some of the most expensive ones and most of the ones I see are small flowers. We already have three...red, pink and purple. Anyways, back to Gymbofriends.

I discovered HappieMommie on there and she makes felt clippies! She had created some and posted them to a thread over there....mostly a bunch of made to match Gymboree clippies. We only have a handful of Gymboree clothing so I wasn't too crazy about most of the clippies so I asked her about some custom designs. She had offered an amazing price just for her gymbofriends so I was interested in a cookie to go along with our new GAP outfit, a Colts clippie, a hippo to match the Island Getaway stuff from Gymbo, a Christmas tree to match our pink dress from Belk's, etc. She said she would love to create some customs for me but to give her a little time. They arrived on Monday and I absolutely love them! Thank you Heather!!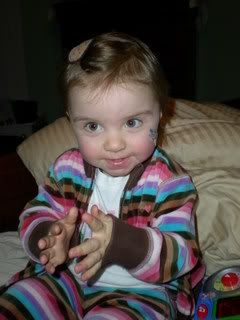 I immediately had to put the Colts clippie in Emma's hair. It is so cute and exactly what I wanted! I love that they are a little bigger than the flower clippies we have...they seem so small on her now. I took a few pictures of her wearing it and one of all the clippies but I can't figure out how to upload pictures from my new camera. Jon! lol...he is asleep because it is 4:00 AM. I will add some pictures tonight when I get home from work. I know you will fall in love with them too and immediately have to go visit Happie Mommie at her new Etsy store!

http://www.etsy.com/shop.php?user_id=5299965

There is seriously so much detail in these clippies...check out the ballerina slippers clippie in her store. Wow!