Jon's parents and his sister Sara came over for dinner on Tuesday night. Jon made chicken and dumplings and it was quite yummy...not as yummy as Granny's though. Emma enjoyed visiting with them and then we had to pack up for our trip.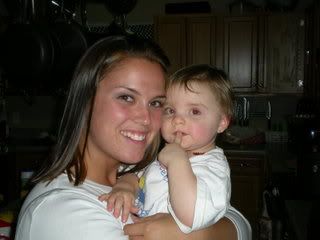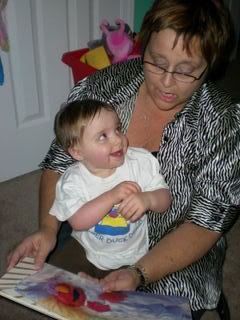 We headed home to Indiana for Thanksgiving and traffic was heavy. Emma was a very content passenger watching Elmo and the Wiggles DVD's and calling out for "Nana" and "Papa" most of the way. She did not sleep for even a second of the seven hour drive! We had a great laidback dinner on Thursday evening around 4:00 PM and we all stuffed ourselves. Kelsey, Grandma & Grandpa, Aunt Toni and the boys came over that evening too.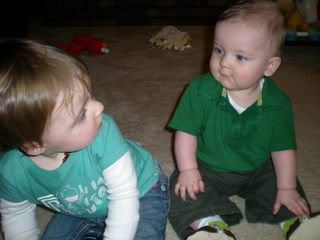 We decided to do something crazy and go out shopping Friday morning at 5:00 AM! We met Den, Courtney and Peytonn at the Mall around 7:00 AM after we had been to Wal*Mart and Menards. Would you believe that the craziest store of all was…Menards?! We overheard a guy in line behind us at the Disney Store say that people were throwing punches over stuff at Menards. What in the world? A sale is nothing to fight over! We found several awesome deals at Wal*Mart (the Little Leaps game...reg. $38.88 on the blitz for $20 plus an extra game!), The Children's Place (25% off storewide plus my 15% off coupon) and Gymboree (30% off storewide plus my 20% off coupon). I love a good sale…maybe a little too much. lol It was fun though but I don't know that we'll ever live it down with Dad. He thinks we are all certifiably crazy! I had my camera with me but I totally forgot to snap a picture of us out at the Mall. Emma was passed out in her stroller for most of the morning and Peytonn was wide-eyed as can be. :)

We ran to Indy on Saturday to do our traditional "Build-A-Bear" with Emma and my parents. It was fun this year having Peytonn along! It was a moment to remember for sure. Emma was fussy when we got there (she is cutting THREE molars!) and Peytonn was getting sleepy. Emma created a bunny with Grandma while Peytonn created a monkey with Grandpa. Emma was more interested in getting her bunny shoes...she grabbed some pink Croc-like shoes, some brown boots and some pink boots. lol She ended up dressing her in a pink striped sweater, pink skirt and pink boots...then she had a meltdown and Grandpa took her outside for awhile. We name her Lucie. Peytonn's monkey was named Champ and was dressed as a Colts football player. Emma's bear from last year was a Colts cheerleader that we named Lizzie! We then headed over to BD's Mongolian restaurant for lunch. It was soooo yummy and Emma slept all the way through it. She doesn't know what she missed! Mom and I caught Kelsey in action at her game against Frankfort that evening...we left at half time though. It made me really wish that we could do things like that more often. I really can't believe she is a Junior too!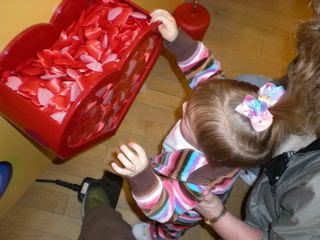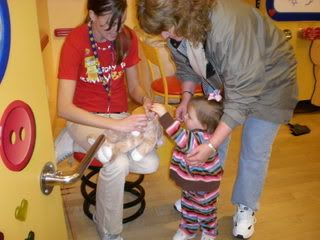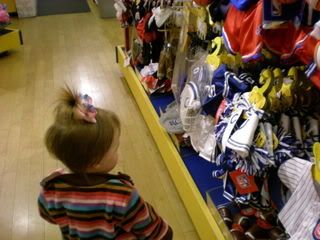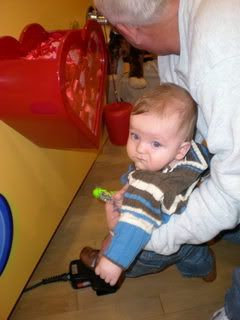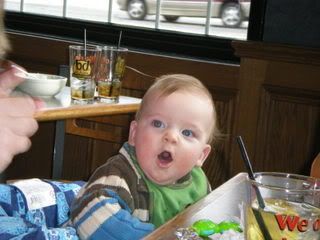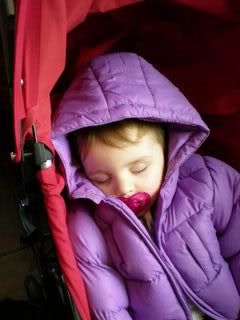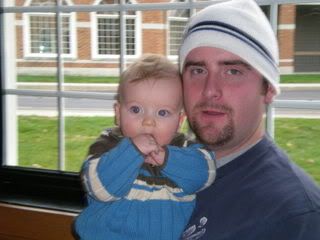 Amanda and Kaleb came over for a little while on Sunday morning before we headed out. It was great to see them again and Emma had fun sharing some Goldfish with Kaleb. We left around 12:30 PM to head home...Emma was sound asleep about two miles from their house. Traffic was heavy again and we stopped at Edinburgh for some lunch and I ran into the Crocs outlet since Emma was still asleep. She is such a Crocs girl...she woke up so Jon brought her in the store. She is so funny when she sees a wall of Crocs...she starts grabbing a pair in each color off the wall! She had blue, white and purple pairs in her arms within a minute of Jon setting her down. lol That is when I should have had my camera! We did get her a pair of pink/lavender sandals that I hadn't seen before for next summer. She has wanted to wear her Crocs three times this week since being at the store!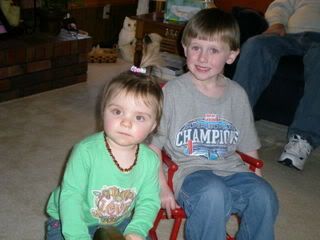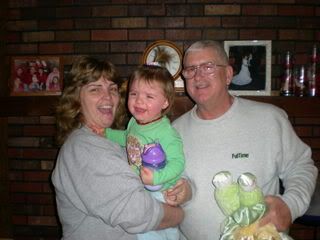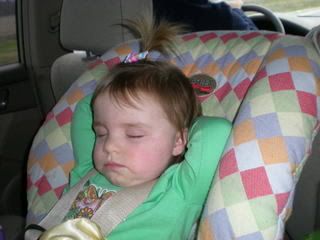 I think that about covers our four day weekend back home...can you believe it is now just 23 days until Christmas? Seriously...where has all the time gone?! I cannot wait to see the magic of the season reflected in Emma's eyes. It is going to be so much fun this year.