I love the reason for the season. I love the decorations. I love the smells. I love the time spent with family and friends. Can you believe there are only 23 days until Christmas?!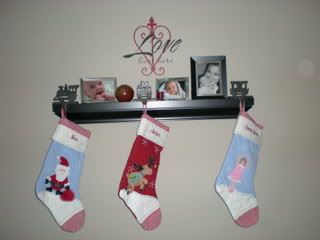 Emma was fun last year. She was a squirming, happy baby and it was fun. This year...is going to be more than fun. She is going to be a blast...and scared of Santa. I hope to take her to the Santa on Frankfort's square again this year. Maybe he won't be as scary. lol We took pictures of each other with Emma in front of our partially decorated tree. We still need to find a nice angel topper for our tree!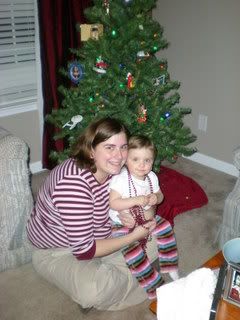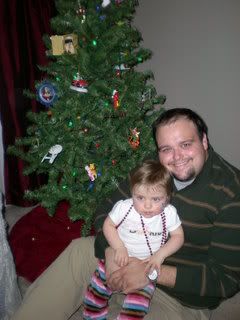 We put up our tree on Tuesday night. We have a small, artificial tree so it needed to "sit" and expand and be fluffed for a day or two. We decorated it on Thursday night. We bought the round LED lights that do not get hot and they are so much brighter than the normal lights. Emma has been in awe of the tree, the lights, the ornaments, the snowglobes around the living room and the BIG one in our yard. She cried when she had to come inside after watching it for 15 minutes in the cold outside! We are going to string the icicle lights around our porch this afternoon and hang the wreaths that Granny gave us on the two front windows.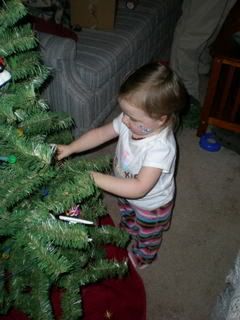 We have only had two bad moments with Emma and the tree...the other night she walk right up to the tree and jerked on the branches, almost tipping it over on herself. She has also pulled an ornament and the beads off...we put her in time out and so far, so good. She looks at the tree and doesn't touch. If it happens again, I think we might put the baby gate in front of the tree between the two couch's arms to take away the temptation altogether.


We need to take some Christmas pictures of Emma for our Christmas cards today. I have been wanting to take them for two weeks now and my coupon for 20 FREE cards has expired now. We have a little Santa dress that I bought for like $3 the day after Christmas last year. I bought her some adorable red shoes at the Children's Place last week to go with it too. The only bad thing is that Emma's poor little cheeks are broken out badly. She scratched her left cheek on Tuesday evening in her sleep (it was pretty deep) and I have kept a band-aid over it, we rotate between Backyardigans and Elmo. I think she may be allergic to the band-aids! She has two big red bumpy patches where the band-aids were...it also doesn't help that she has horribly sensitive skin in the wintertime too. I have rubbed her Aveeno cream on her cheeks the past two days so I hope it looks better today so we can take some pics!

I'll try to upload the BIG snowglobe pictures soon!