I picked Emma up at the babysitter's house and headed to Nashville after work yesterday. She was not too keen on putting the Roo outfit on again...she liked it just laying beside her. I showed her the tail and she was ready to put it on! We went to Jon's parents' house first and Emma carried her big ol' pumpkin tub to the door like she knew what she was doing. :) We also tried to take pictures of her in front of their Halloween display but Emma was more interested in their little bitty pumpkin. She wanted it as her Trick or Treat...not her bucket of goodies! Grandmama had picked out a Leap Pad book, three kinds of puffs and a Thanksgiving bib. Thank you! She also did not really care for the whole aspect of

giving out

the candy to the trick or treaters either. She would cry when we would hand out some candy!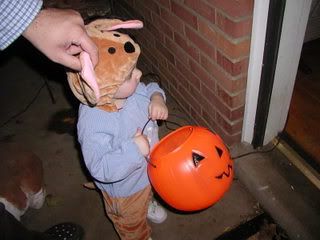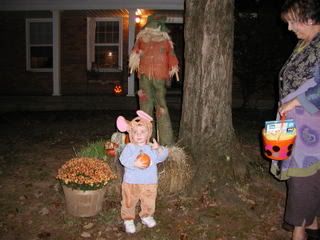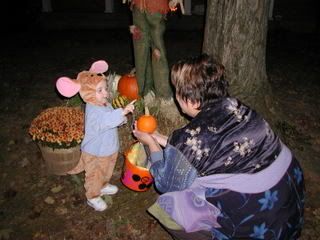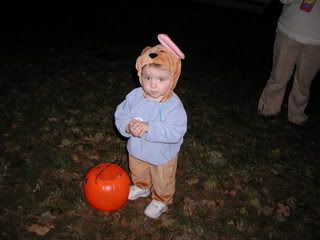 She was getting sleepy so we headed on over to Granny and Diggie's house before the Roo costume had to come off. She walked up to their porch carrying her pumpkin tub again only this time it had the mini pumpkin she swiped from Grandmama's display in it! I wish I would have thought and took a few pictures of her walking up but alas...I didn't think about it at the time. Granny had Emma a cute little stuffed pumpkin man and some yummy homemade snickerdoodles. Yummo! We really didn't get too many great pictures as our camera is still doing this annoying "buffer memory" thing and stalling out before taking a picture...if it even takes the picture!



Our camera actually went on a joyride last night, Jon left it on top of the car on the way to Granny's house and amazingly it was still up there! Needless to say...we are going to be getting a nice, new Nikon SLR camera for Christmas as our gift to each other. :) We have missed too many little moments lately due to this annoying, will it or won't it work, camera. I am too much of a picture person to not have pictures!

I think we might actually stick closer to home on Halloween next year and check out what our neighborhood has to offer. Get Emma out in her costume and wagon and go door to door just trick or treating and pass out some candy at home. It'll be fun because I think she will really "get it" next year!