Finally - I can post pictures without the error messages! :)

This post is especially for Great Aunt Sally, Great Uncle Kel, Great Aunt Becky and Great Uncle Billy...Emma says "sanks fo Wowa!"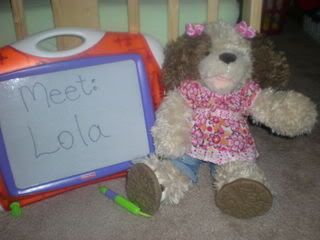 Meet Lola...Emma's new buddy from Build-A-Bear.

Please excuse the pictures, my camera is still a little fuzzy from the bubbles incident. Here is a recap of our visit. Enjoy!

This is Emma checking out the buddy options.

Her doggy getting fluffed with love & stuff.

Picking her heart...

...and warming it up with her love!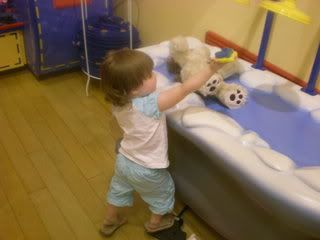 Fluffing her up!

Shopping for "Wowa" accessories. Seems to be her favorite part each time!

So happy to be stopping by Granny & Diggie's house to show off Lola the puppy! (Excuse the strap in the picture, lol, she moves fast!)

Loving on Lola.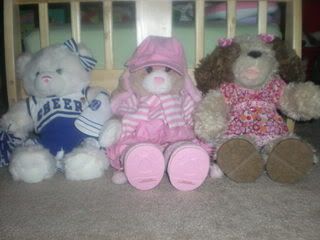 Introducing Lola to her other Build-A-Bear buddies, Lizzie and Lucie.

She fell asleep with her last night. "Ni-ni Wowa!"