My parents were down here visiting us until Tuesday and it was so awesome to have them here with us. We took Emma to the Zoo in Nashville on Sunday and it just happened to be the hottest day of the year so far! It was fun and exhausting at the same time. We saw the elephants, giraffes, meerkats, monkeys, lorakeet birds and even a goat. I hadn't been to a Zoo since I was probably in like 4th grade and we went to the Indianapolis Zoo where I managed to get slimed by a giraffe! Luckily, the giraffes here kept their distance.

Emma thought the meerkats playing with each other were hilarious. There were about five of them in the corner near us that kept knocking each other around. My questions is...how do they not escape as they dig all those holes?!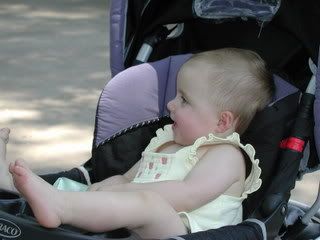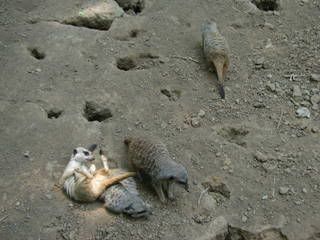 Emma was a little uncertain going into the lorakeet cage to feed the birds. She kept her finger in her mouth like she was afraid the bird would try to get it! One landed on a little girl's arm while we were there...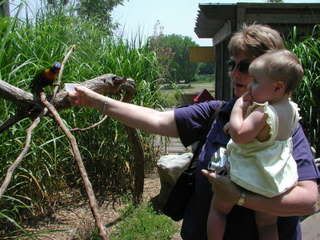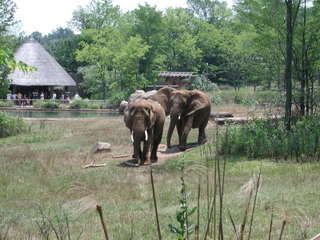 I love this picture even though its not the best one we took...it shows Emma's excitement once she saw the big elephant.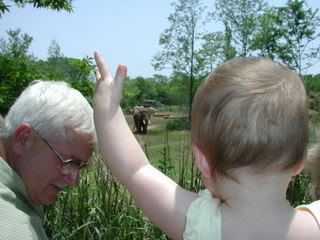 I was hoping that they would have a hippo but the Zoo is only ten years old so they are still growing. Emma did get to ride a hippo on the carosel with Gramma though.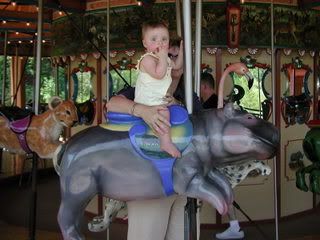 Can you tell we were getting HOT?! Jon actually turned our day's admission in on an individual membership (and guest) for a year. So we will definitely be going a few more times...just not when its so hot. I think it'll be awesome to go this fall. I don't have a whole lot of pictures because our camera died about halfway so I'll post some more when my Mom sends them to me.

We also had dinner at Red Robin after her portraits on Friday and the waiters all sang to her and brought her a sundae with a balloon. My Mom also has those pictures on her camera. :( I was such an ill-prepared Mommy! She was being extra cute and making cheesy faces at everyone in her Princess Picasso outfit. My daughter is such a little ham!

Lastly, her Max Daniel blankets finally arrived today (interesting issues with the store we ordered them from online back on 6/2 but she sent an extra one for the confusion!) and it caught her eye the second I pulled it from the box. She has been toddling around all evening with it...Daddy made the mistake of trying to take it away from her and she cried! I swear my daughter is really Linus from Peanuts. She loves her blanket but now she has one the right size to toddle around with and not trip up. I am kind of jealous of her new blanket...they are sooooo soft!