We had her birthday party here on June 16th. This was the first time that Emma had so many little kids in her house. I fed her lunch in the exersaucer and Tristan, Peyton, Noah and Tyler were playing in her room...she would not take her eyes off of them. As soon as I put her down, she toddled into her room and they all had came back into our living room...Emma sat on the floor and cried. It was almost like a"Hey its my party and my room...pleeeeeease play with meeeeeeee" kind of cry. The tears didn't last long though as we moved on to opening her gifts.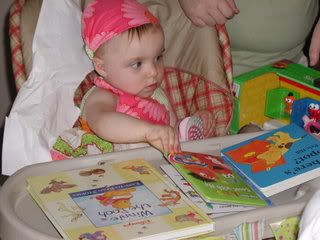 Tyler and Noah had fun helping her open her presents...it was hard to get the Sesame Street toy away from her to open the other presents. She kept her left hand on it almost the whole time as if she thought it would get away! She got a pair of Merrell shoes, a shopping cart with food, a baby doll bed, books, bracelets, a potty, several outfits and even a bikini!

My Mom and I had made her cakes that morning. We made Emma's smash cake a little bit "messy" so she could have some fun with it. This was her third time having a birthday cake so she was all about smashing it...even using both hands!




It was a great day spent with our family and close friends celebrating Emma's big day. I absolutely love how loved my baby girl is. I am off to start on Emma Cakes' thank you notes and try to figure out my sewing machine.