I cannot believe my baby girl is one. We have been celebrating Emma's birthday all week! She has now had three birthday parties. One at Gramma & Grampa's in Indiana last Saturday, one at daycare on Thursday and her party at our house yesterday afternoon. So she was really into the smash cake yesterday and was quite the little ham with it. :) I'll post pictures a little later when I have time to upload them.

We took Emma over to Portrait Innovations for her one year portraits on Friday evening. She wore her birthday outfit by ModKid Boutique and another outfit I won off of eBay from Princess Picasso. All the ladies in the photo studio had an absolute fit over her. We had wrapped up a box for her to stand in and took along a few of her presents as props. I may be biased...I think she could be a Baby Gap model. What do you think?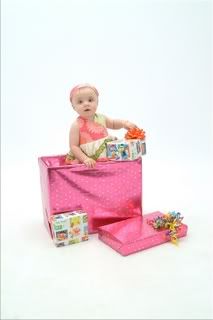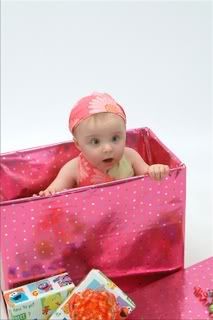 Emma started out being very serious but then the smiles came out when Daddy broke out the Backyardigans' "Mission to Mars" ringer on his phone. That song gets a big ole smile every time. I admit that I am in love with the bright colors of these boutique outfits on my baby girl. They made for great pictures! Well, my parents are in town until Tuesday so I'll post again later this week after we enjoy their visit!