I have had this idea swirling around in my head to create a Pebbles costume for Emma's second Halloween. She was the usual pumpkin last year since she was like four months old and I wanted to follow the tradition of the baby pumpkin idea. She was a cuuuuute pumpkin I might add...especially since she is affectionately known as "our lil' punkinhead." The octopus costume was very hard to pass up so we decided she would be it this year when she would be toddling or walking which would be even more adorable. Well, the octopus idea has been replaced with Pebbles.

I bought some white flannel and backing to create a little bone clippie for her hair. I just need to find the alligator clips to finish it. I have been on the look out for some crazy animal print fabric but I haven't had much luck. I had decided that I was going to just buy some pink fabric and embellish it with some brown patches to resemble Pebbles' tank top. I stopped by Old Navy yesterday and I found this perfect pink onesie...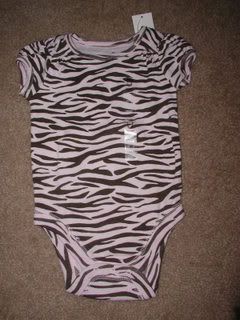 That is why I need help from Mom, Granny, Chelsea, Patty...anybody that is a seamstress! How should I go about turning this $1.97 onesie into a Pebbles-esque tank top? I want it to "flip" out at the waist but I do not have a serger or anything just a pretty basic Brother sewing machine. Also, I was going to try to rip the seams out on the sleeves and sew them under like a hem but should I leave them kind of jagged looking? I am planning on just pairing it with brown bloomers that came with one of her skirts. Is that too simple? I have so many ideas and I think I am too much of an amatuer to pull half of them off!