We scored an almost new Maclaren stroller on Craigslist last week and Jon picked it up on Friday. He got home late and set it up in the living room for me to check out. I *love* it and so does he...he doesn't have to hunch over to push it! The next morning Emma woke up and toddled in there and pointed like "what is that?" and had to check it out as soon as she got dressed.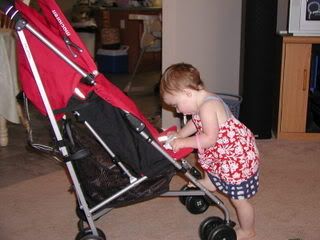 Jon's parents asked us to join them and Granny & Diggie at Millers Grocery on Saturday night for dinner. It is this yummy restaurant that is less than five minutes from our house. Emma likes it because there is always a live bluegrass band when we go so she can dance around. Here are a few pictures of her with Grandmama and Granddad. Also...Emma*Cakes has a big surprise coming on November 15th...they got us tickets to go see Elmo LIVE!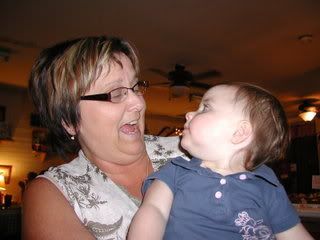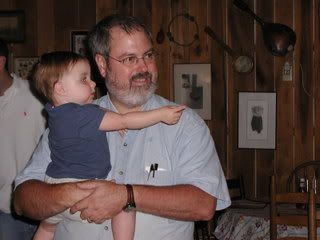 We also had Patrick's birthday dinner at Granny's on Sunday evening and he got some Colts gear so we dressed Emma in her jersey too. The last picture is mostly for Tatum, if Mom ever has a chance to show her my blog. :o) They were flower girl and ring bearer at our wedding and were a little sweet on each other...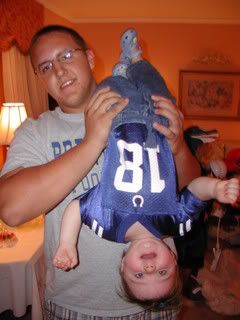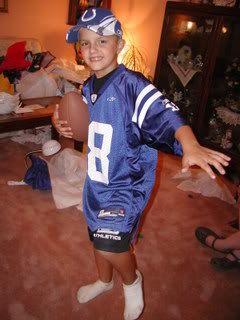 Emma *loves* spaghetti so we strip her down to her diaper and let her eat up. She ends up a tomato-ey mess but her tummy gets full and she is so fun to watch with it. I love these moments.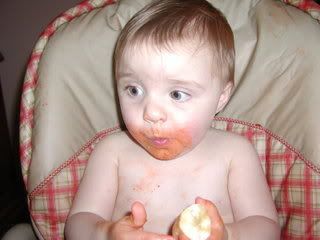 She has also started "dancing" slong to the Wiggles...seriously doing what they do. Touch your head, spin around, stomp your feet, shake your arms. It is amazing. I tried to catch her in action but she started showing off by running around me like crazy so I couldn't get any better pictures that this. I am amazed by how much she picks up from the show and playing with Peyton at Nanny's house each week. This is the best stage right now...it is literally something new each and every day.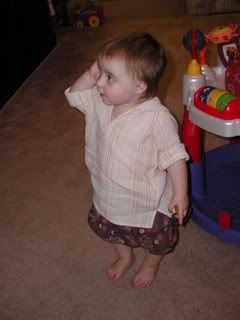 Here is a not so great one of Emma & I using our new sling. I love the color. She is becoming a big time clingy girl and this make its much easier to get some cleaning chores done.




It fits much better than my other Lucky Baby sling...another sign that I need to lose weight big time. This medication that I have been put on for PCOS has made me so incredibly nauseous every time I eat so I have been having tiny meals so hopefully I'll start seeing some results soon! I'll try to post again soon because we got some cute ones of Emma with a shampoo mohawk in the tub tonight. I love her so much!