We have been so busy lately that I've barely had time to do anything, let alone, blog. lol I like to blog here so that everybody, here and away, gets to keep up with us. So I'm going to make this one big picture blog.

Let's see...there's Christmas Eve at our house with Jon's parents and grandparents, Christmas Day at his Aunt Sally's house (in the outfit Granny made for her!), out at Opry Mills with my parents, we took Emma to lunch at the Aquarium out there, Emma in her new sweater and hat from Nana, playing in our yard last weekend, and I'm really not sure what else I am going to add...so many memories. I am definitely loving having a small camera to carry around in my purse! Enjoy!



Look - Nana's got Peytonn on her phone!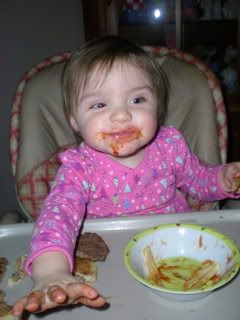 Mommy...where has ketchup and fries been my whole life?!



Jon & Emma checking out the fish at the Aquarium restaurant.



Emma loved the fish tank. She didn't even eat lunch!



A quick snap of us by the waiter.



Emma was about to fall asleep but she had to ride the carosel.



Papa pushing Emma around the yard. Zoom zoom!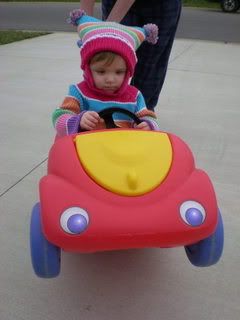 Her expression cracks me up. What's going on with my big, red car?!



Who knew an empty Pampers box could be so fun?!



Out shopping at Michael's with her new cart cover. :)



Goofy girl! There's nothing like a bowl of scrambled eggs on your head.



Daddy let me touch the ceiling...12 times! lol She needs a haircut!



Emma & Great Aunt Sally on Christmas Day.

***More to come...Emma needs me! I'll try to upload some more this evening. It'll be Emma overload!***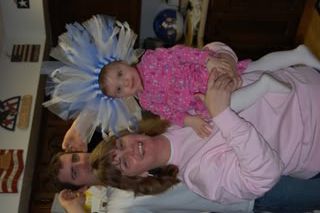 Doesn't everyone wear a tutu on their head?!



Our latest family portrait.



Look at P...he can stand!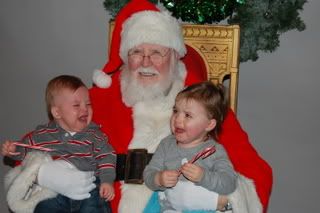 Santa was not popular this year. Emma loved him last year at not quite 6 months!



She seemed to like the snow...just not the bundling up!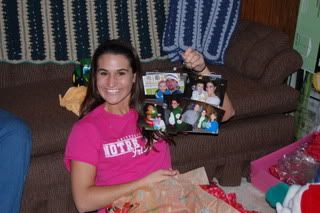 Kelsey and her adorable gift Mom found at Christmas Village.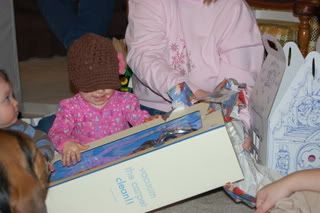 Look at that smile...she loves the vacuum!


Our Christmas tree! This is the 2nd one...the first one "fell" over and broke.



Our shelf above the couch serving as a makeshift mantle.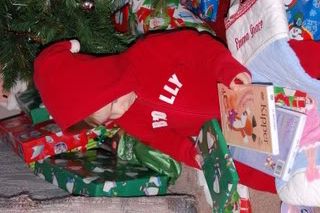 Emma on Christmas morning.



Emma opening presents with Aunt Sara.



Emma loves her new beanie and slippers. So cute!



...and they thought clothes would be a boring gift for her. lol



Having Diggie read a book to her.