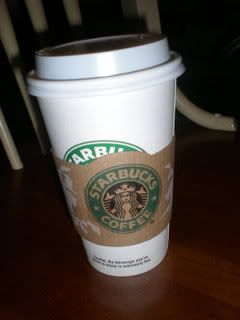 Jon kept Emma home again yesterday since he was off work for the holiday. I was at work with a slightyly sore throat and was sneezing like crazy. I woke up this morning about 5:00 AM and coughed so hard that I gagged and got sick. Not a fun feeling on an even more sore throat. I woke Jon up and told him that I was not going to work...I was feeling way too yucky. So I called and got a 9:30 AM appointment to see our doctor's nurse practioner and I packed up Emma and was off to their office. We were there from 9:28 AM until 11:04 AM! Emma was so over that little room about 20 minutes after we were showed into the room. Do you know how hard it is to be achy and sickly and chase a toddler around a room?! "Baby, don't touch that...Emma don't open that...Punkin, please do not touch that...please step away from the door." It was so much more than not fun.

It was torture with a pounding head and an aching body. Emma was so protective of me as they took my blood pressure and weight and everything though. It was like don't touch my momma! She is not particularly fond of doctor's offices especially three times in a week. She prescribed me a decongestant and an antibiotic...it was off to the pharmacy in the cold, nasty rain. She said it would be at least 45 minutes so I run through Sonic to get Emma a little something. They mess up and do not give us the tots I ordered...just fries so she would not eat them. She munched on her sandwich and apple juice. I wanted something warm on my throat but I am so not a big coffee fan. I do the gas station cappacino's every now and again but only because they are not overly coffee tasting plus they are less than a $1! Since Emma was with me and the weather was so gross, I decided to do Starbucks...they have a drive thru. I had no clue what most of the menu meant so I ordered a Tall Caramel Spiced Cider...it was heaven in a cup! I might even have Jon bring me another one when he gets home.

We finally get the prescriptions and head home...so thankful that we can pull in the garage and stay out of the weather. Emma was coughing by this time so I came in and gave her a breathing treatment which is getting harder and harder to do, little stinker! Anyways...she is down for a nap and I think I am going to join her. I want to sleep even though I know the house needs cleaned and even sanatized after all this sickness! It will have to wait...I have a baby to go snuggle.